METROPOLITAN DETROIT DINING GUIDE 2015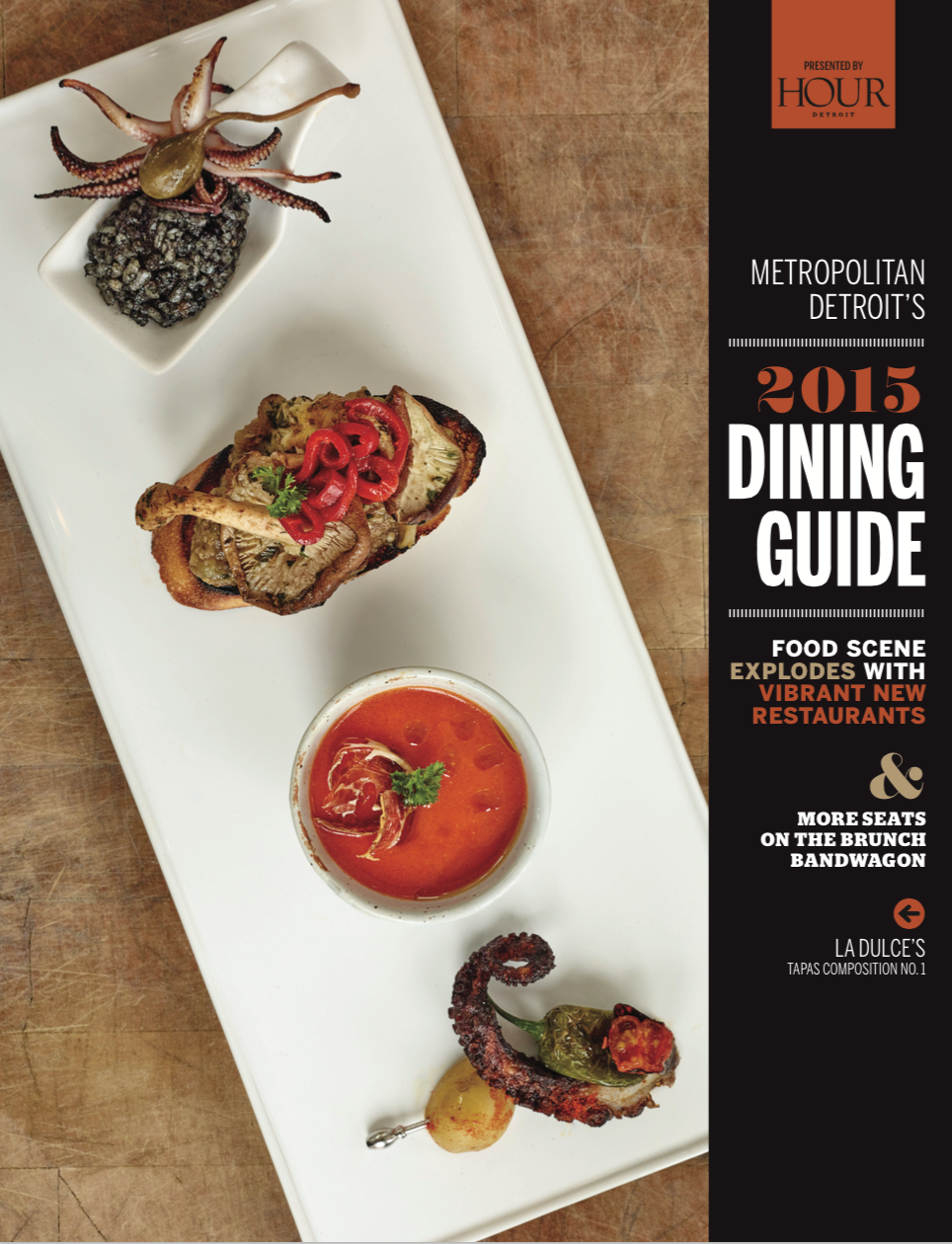 January 15, 2015 | Hour Magazine
There's a lot to cheer about on the vibrant 2015 restaurant scene. We not only have a wealth of enduring classics that manage to provide exceptional food and service year after year — places like Tre Monti, Beverly Hills Grill, The Lark, the Rattlesnake Club, and Iridescence — but we've also welcomed impressive newcomers at a record pace over the past year or so. They include major productions and mod- est but appealing cafes.

Even the esteemed Michelin Guide is recognizing the value of restaurants that are not the typical white-tablecloth establishments — and that certainly fits in with tastes here and across the country. Good food is paramount, of course, but diners also want places that are comfortable, stylish but still casual, and have a discernible personality. Coming into an already competitive field, these newbies must set them- selves apart in some way in order to be noticed.

It just doesn't work to follow the pack with repetitive menus and unimaginative settings. La Dulce, a bright new face in downtown Royal Oak, makes its mark with tapas, churros, and a lot of Spanish/Mexican verve. Bistro 82, another new attraction in Royal Oak, exudes urbanity from its menu and wine list presented on interactive tablet menus to the under-lit black and gold onyx bar that is one of the elements of a sophisticated decor. It's a tribute to the skill in the kitchen that the handsomely composed plates deliv- ered to the tables look and taste just as good as their tablet images suggest.

Ferndale's Torino checks in with a tasting menu that changes monthly. No chance of getting bored — either for those enjoying the stunningly presented courses in the din- ing room or for the culinarians in the kitchen, where the ever-changing fare keeps the staff on top of their game.

The Stand, or to give it its full title, The Stand Gastro Bistro, has chosen charcuterie as a signature, and it fits the rustic setting that includes repurposed wood from old De-troit structures. Chef and co-proprietor Paul Grosz, in fact, is an instructor in charcuterie at Schoolcraft College, and he knows his way around the cured and dried meats. A beauti- ful board of country pâté, chicken galantine, and hunter sausage is a menu staple at the Birmingham spot. Just down the street, Bistro Joe's emphasizes creative cocktails includ- ing a great mojito and an array of single malt scotches from its balcony perch overlooking Papa Joe's Market.

At downtown Detroit's Wright & Co., where the bartend- ers behind the long white marble bar use fresh herbs and house-made essences to prepare signature drinks, the vibe is a blend of old and new Detroit. The restaurant on the second floor of the 1891 structure features a small plates menu and beautifully combines its tin-ceilinged vintage set- ting with contemporary furnishings. Co-proprietor Marc Djozlija says he and partner Dave Kwiatkowski wanted Wright — named for the jewelry store that was the face of the building for many years — to be the kind of place they would look for when out of town. That's an apt description of what they've achieved, while helping save some of De- troit's vintage architecture.

Grosse Pointe's Marais is named for chef/proprietor David Gilbert and wife Monica's favorite section of Paris. Here, he and his staff prepare beautiful plates of French-inspired fare. The more traditional but still warm setting underscores the cuisine with an extensive wine list. As popular as craft cock- tails have become, outstanding wine lists that set restaurants apart from the crowd are equally important, as indicated by the cellars at Joe Muer Seafood, Roast, Coach Insignia, and The Whitney.

Within these pages, you'll find helpful information that will lead you not only to the enduring classics but also to the array of new and exciting dining destinations. In order to succeed in a volatile industry, restaurants that set themselves apart from the crowd in a distinctive way will be around not just this year, but when the 2016 Dining Guide arrives.
View Article >