DETROIT CHEFS WEIGH IN ON CULINARY TRENDS FOR 2016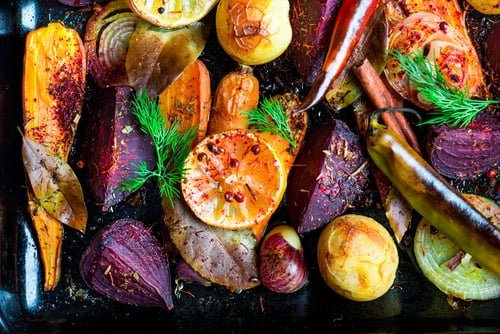 January 12th, 2016 | Foodable
Will 2016 be the year we finally bid farewell to kale salads and bacon on everything? What will be the next bacon and kale? Detroit culinary experts — Derik Watson, executive chef at Bistro 82; Luciano DelSignore, chef and owner at Bacco Ristorante and Bigalora Wood Fired Cucina; Nick Janutol, executive chef at Forest; TJ Newington, chef at Terry's Terrace; and Jared Chorney, food and beverage director at The Townsend Hotel, home to the Rugby Grille — share what's going to be hot this year in the food world and what's on the way out.

Foodable: What do you predict as the top culinary trends of 2016 and why?

Watson: Culinary trends for 2016 I believe will include lighter fare, a stronger focus on vegetables. Also street food. Primarily Korean and southeast Asian. Fermentation is a technique that is becoming more popular due to the Noma movement. Prices are rising at such a rate that the need to source other options such as vegetables is becoming necessary in order to keep costs in line. Also just the awareness of the health benefits as opposed to the meat-and-potato diet. Fermentation is opening an entirely new pantry of flavors that are allowing for new, innovative dishes and flavors.

DelSignore: Non-GMO & nutrition. I think people are getting tired of super fatty foods and are concentrating on healthier food options. Veggies will be making more of a presence on menus. More focus will be put on non-GMO ingredients. Organic will still have importance, but only if it's non-GMO first.

Fermented foods. I think people will start paying attention to the health benefits of fermenting vegetables. Sugars and carbohydrates are broken down by healthy bacteria, making it easier for the body to digest and offering probiotics.

More pop-ups! With the increasing number of young chefs coming to the market, I think pop-ups are a way for them to showcase themselves without making a huge investment and/or finding investors for their own bricks and mortar.

Ancient and heirloom grains. I think these are going to start showing up in bread techniques, center of the plate options, and fold into a lot of vegetarian cooking.

Healthier local fast food options. Burgers, Middle Eastern, pizza and sausages will be turning up in small, one-off locations.

House-made condiments — everything from ketchup, mustard, Sriracha to hot sauces and more.

Janutol: I predict the top culinary trend of 2016 to be a greater embrace of Asian cuisine and flavors.

Newington: Locally sourced food, new meat cuts, introducing different ethnic cuisines, upscale casual atmosphere, and specialty brunch.

Chorney: I had a conversation with our Rugby Grille Chef de Cuisine Damian Yopek, and he feels that one of the big trends you will see going into 2016 is returning to simple French cuisine.
Chefs are looking to alternate proteins and underutilized cuts. Pictured above: lamb loin.
CHEFS ARE LOOKING TO ALTERNATE PROTEINS AND UNDERUTILIZED CUTS. PICTURED ABOVE: LAMB LOIN.

Foodable: What about ingredients?

Watson: Local produce, root vegetables, and mushrooms replacing meat. I think cauliflower and grains will remain popular. Korean ingredients like gochujang, fermented chili pastes and chilis will be used more often.

DelSignore: Healthy local greens like carrot tops, beet greens, dandelion, collards, mustard, seaweed. Grains, einkorn, emmer, amaranth, sorghum, black barley, blue corn, and already widely used quinoa and farro will remain. Grass-fed meat, goat, sheep heritage hogs.

Janutol: In particular, Japanese ingredients and techniques. I love blending Italian and Japanese flavors.

Newington: Cuts of meat that were previously unpopular: Coulotte steak, pork belly (roasted, not cured into bacon), chicken thighs. And ethnic spices. With costs of running restaurants rising, chefs are looking to use different cuts of meat and making them unique and delicious.

Chorney: A few classic ingredients chef Yopek is focusing on are lamb and European Turbot. Turbot is highly prized as a food fish, especially in France for its delicate flavor. It has a bright white flesh that retains this appearance when cooked. In the Rugby Grille, we are featuring this lovely fish with an oyster and savoy cabbage choucroute, sunchoke puree, and topped with caviar. We are also featuring a classic roasted lamb loin with broccoli puree, mushrooms, pearl onion confit, and a foie gras jus.

Foodable: Will you be embracing these trends/ingredients in your restaurant and if so, how?

Watson: No more than currently. I'm not going out of the way to follow a trend. There is some Korean influence with a few of the dishes at the new concept but I've always been a fan of those flavors and that's what I enjoy eating.

DelSignore: We will continue to support the local farming community to offer healthy food choices and promote more plant-based plate options.

Janutol: Umami rich pastas, simplistic fish dishes. Fermented fish sauces and the like.

Newington: For the most part, we will continue to push our upscale, casual atmosphere. As far as the menu goes, we recently put pork belly on a few items and everyone loves it. The authentic ethnic cuisine will be popular, but not with us. I'm always bringing in new steak cuts, one of them being the Wagyu top sirloin, which has now made it on our menu. We will also continue to bring new brunch items — my favorite being different variations of the classic Benedict. Right now, we are serving a filet mignon Benedict with a cajun hollandaise. I look to put a few different variations of the Benedict in the new year.

Foodable: What is on the way out in 2016?

Watson: Bacon or pickled everything is on its way out. Sliders will make way for an international dumpling movement, sort of moving back to the street food thing. I believe the artisan doughnut has officially kicked the cupcake off the block as well.

DelSignore: Poutine, duck fat, processed meats, fast food giants, deviled eggs, Brussels sprouts.

Janutol: I think braised pork belly has finally had its day.

Newington: Gluten-free, vegetarian entrees, quinoa.
View Article >