(Almost) Foolproof Pan-Seared Scallops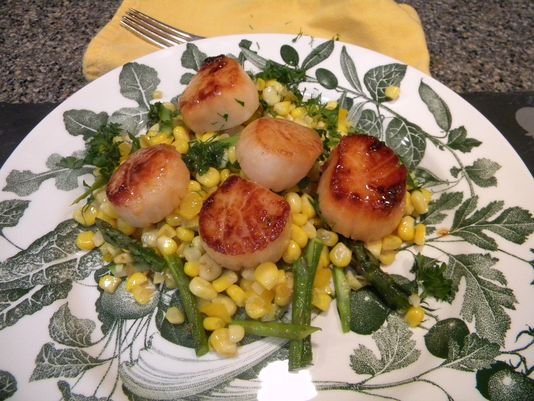 May 28, 2015 | The Detroit News
I've adapted what I learned from him into my own dish with asparagus and corn saute, and it was a real hit. Now I can have restaurant-quality scallops at home and listen more intently to the specials the next time I'm dining out.

klawson@detroitnews.com


Seared Scallops with Corn and Asparagus Saute

Recipe from Kate Lawson adapted from Chef Norman Fenton, Bistro 82.

10 wild-caught sea scallops (Jumbo or U-15)

1/2 teaspoon coarse sea salt

1/4 teaspoon ground black pepper

1 tablespoon extra-virgin olive oil

1 tablespoon canola oil

3 tablespoons lemon juice

2 tablespoons cold butter

Additional sea salt to taste

Using paper towels, pat scallops very dry and arrange on a plate.

Heat large skillet over medium heat until hot, but not smoking, add oils and heat additional minute. Arrange scallops in skillet in a single layer, sprinkle with salt and cook, without touching, until deep golden brown underneath, about 2-3 minutes. Shake skillet occasionally to help loose the scallops. Using a small metal spatula or large spoon, swiftly loosen and flip each scallop and cook until deep golden brown on the second side and just firm and opaque, 1 to 2 minutes more. Transfer to a large plate and keep warm.

After removing cooked scallops from skillet, reduce heat to medium-low and whisk 3 tablespoons lemon juice into the skillet, scraping up any browned bits. Add 2 tablespoons cold butter a few cubes at a time and continue whisking constantly until just melted. Whisk in 1/4 teaspoon sea salt. Drizzle over scallops. Garnish with parsley and serve immediately over corn and asparagus saute. Makes 2 servings.

Corn Asparagus Saute

1 bunch asparagus

3 ears fresh corn

4 tablespoons unsalted butter

Salt

3 tablespoons chopped basil

Wash the asparagus, trim off the bottom 1-2 inches of each stalk and peel lower 2-3 inches. Cut stalks into thirds.

Carefully shave the kernels off the three ears of corn. Melt the butter in a large, flat pan.

Add the asparagus to the butter, allowing all pieces to lay flat on the pan. Don't crowd the asparagus — if they don't all fit, do it in batches.

Saute without moving them for a few minutes, or until they begin to brown on the bottom. Salt the asparagus, then flip and brown the other side. Once the second side has browned, remove the asparagus from the pan and add the corn kernels. Saute, stirring, until the corn begins to look translucent and turns a light golden-brown. Add chopped basil, salt and pepper to taste.

Per serving: 740 calories; 56 g fat (24 g saturated fat; 68 percent calories from fat); 35 g carbohydrates; 4 g sugar; 144 mg cholesterol; 1,244 mg sodium; 31 g protein; 7 g fiber.
View Article >