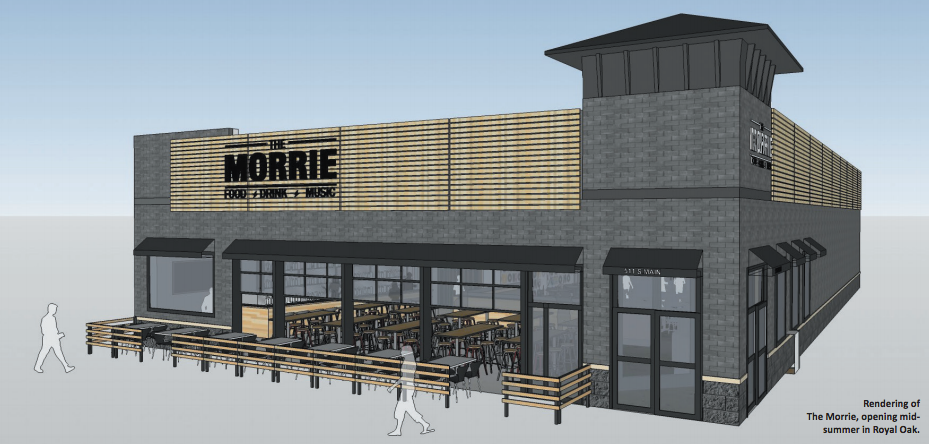 May 26th, 2016 | Detroit Jewish News
The Morrie, an exciting new restaurant-bar-music
venue rising on Main
at Sixth streets in Royal Oak, is AFB
Hospitality Group President Aaron Fenkell
Belen's homage to his beloved maternal
grandfather. The venue is intended to be
contemporary yet comfortable for everyone
and offer a different experience on
every visit.
Named for the late bank
chairman and philanthropist
Morris "Morrie" Fenkell, The
Morrie is "well-underway," said
Belen, anticipating the opening for
mid-summer.
The Morrie, his company's
second Royal Oak entertainment
venture, will be one of the biggest
building projects in the city at
7,400 square feet and nearly $4
million in total investment. Such
commitment to Royal Oak helped
earn Belen, 33, the honor of being
named the city's 2015 Businessman of the
Year.
AFB Hospitality Group, founded 3½
years ago with business offices in Berkley,
"is built on doing things in the right
way," said Belen, who was raised in West
Bloomfield. "We set our bar high enough
to be Midwestern in feeling and values."
A carefully thought-out venue nearly
two years in the planning, the one-story
Morrie will offer roadhouse-style dining
for up to 240 "at a very affordable price
point," Belen said, while still offering the
impeccable attention to fresh ingredients,
service and decor that distinguish the
company's original foray into Royal Oak
— the award-winning Bistro 82 restaurant
and Sabrage nightclub.
Open since February 2014, Bistro 82
was an instant hit, chosen Best New
Restaurant in that year's Jewish News'
"Best of Michigan" readers' poll and
continuing to be honored by other local
media. Simply put, Belen and his team
have succeeded in creating the "cool, chic
dining and nightlife experience"
he envisioned at the corner of
Lafayette at Fourth streets. Diners
at Bistro 82 can enjoy a gourmet
dinner before heading upstairs to
"dance to a world-renowned DJ
that we've flown in for the night,"
Belen said.
Inside Bistro 82, two walls
opposite the windows feature
a glowing onyx bar and a huge,
multi-colored abstract by artist
Sam Friedman. Soft-touch, faux
leather for seating in ivory also
brightens the gray, contemporary dining
room. Black chairs and dark gray tables
left bare provide a contrast to the parade
of white china. Spanish porcelain tiles
cover floors. The vibe is enhanced by an
unobtrusive, Harman-designed sound
system.
The same attention to design will
be evident at The Morrie, which has
employed noted Birmingham architect
Kevin Biddison and Ronnisch Construction
of Royal Oak.
"We're doing things the right way with
talent across the board," said Scott Sadoff,
director of operations for AFB Hospitality
Group.
The Morrie will feature 23-foot high
ceilings with exposed ductwork, 14 TV
screens, roll-up garage doors, small
street-side patio, eight large tables that
accommodate six-eight guests and a
stone-and-granite bar top with wood liner,
also found on high and low tabletops.
Visible from all vantage points of the
spacious room will be a center stage
featuring musical performers. At different
times guests can enjoy rock bands, jazz,
blues and country.
"We will offer every feature people
could want" in entertainment, said Belen,
noting the inclusion of a dance floor and
state-of-the art "unbelievable" acoustics at
The Morrie.
"Restaurant-bar science helps separate
us from others in the market," he said,
promising that "the music will sound great
and yet allow guests to hear each other
speak."
The Morrie personality will be different
from Bistro 82, which tends to attract an
older, more sophisticated crowd.
"We will cater to a different
demographic," Belen said. "We'll be
incredibly food-, service- and pricefocused.
You could come in to eat seven
days a week."
The prime, high-visibility location on
Main Street, convenient for foot traffic,
will make The Morrie "a place where the
Royal Oak community can pop up every
day — families as well as couples and
individuals," said Sadoff. The venue also
includes a dedicated parking lot.
Derik Watson, the company's notable
executive chef, is developing a menu of
eclectic, neighborhood-style, "wonderful
bar food" for The Morrie, Belen said.
Guests can look forward to large entree
salads, and burgers and sandwiches placed
inside house-made, freshly baked buns.
"We've imported an Italian artisan stone
bread oven and will use a small smoker for
meats and other entrees," Watson said.
Helping the new enterprise to run
smoothly from the start is its close
proximity to Bistro 82.
Belen said that synergy will allow for
coordinated food buying, and "we'll
have every piece of kitchen equipment
necessary to make any kind of food in the
two kitchens."
He can't say enough good things about
the talent and dedication of his young and
growing AFB Hospitality Group, which will
soon employ between 140-165 full and
part-time associates.
Content to keep his properties in Royal
Oak, "where we've planted a flag," Belen
is confident "we know the pulse of the
community, and we'll be able to back
up our claims of being at the top of the
culinary food chain."
Belen looks forward to his company
attracting "a whole new kind of guest"
with the addition of The Morrie. It will
be available for corporate functions,
fundraisers, political events and private
parties, in addition to regular guest visits
to enjoy dining, drinking, and listening or
dancing to live music.
It's varied and affordable entertainment
all under one roof.
"At The Morrie, you can go and have fun
at great value," said Belen.
View Article >