Sunday brunch is worthy addition to 4-star Bistro 82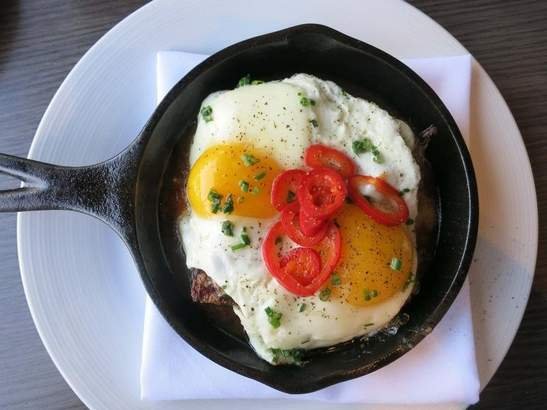 June 11, 2014 | freep.com


Bistro 82 in Royal Oak opened in February to near-universal accolades, including a four-star rating from the Free Press, so the culinary bar was high when sous chef Norman Fenton was tasked with writing the menu for the restaurant's new brunch, which debuted June 1.

He has easily succeeded, introducing a collection of terrific dishes as delicious and interesting as they are beautiful.

The 15 entrées appeal to a wide range of tastes. Dishes for the health-conscious include quinoa "oatmeal" ($8) — which exceeded my wildest expectations. The tiny grains of quinoa are cooked to a porridge, mixed with diced Granny Smith apples, raisins, walnuts and a hint of cinnamon before being topped with strawberries, bananas and blueberries. Guests can add steamed milk if they wish.

It's light and aromatic — not heavy and gluey as oatmeal can be. It's a must-try for cereal lovers.

Egg dishes range from lobster and crab scramble ($17) dabbed with Osetra caviar to a roasted wild mushroom omelet ($9) with Comte cheese, spinach and caramelized onion — and of course, eggs Benedict ($12).

Fenton updates his version with braised pork belly — here, with subtle Asian spices — topped with frisée greens dressed with sherry vinaigrette. The poached eggs draped with creamy, lemony Hollandaise sit atop toasted baguette slices rather than the usual bready English muffins, and a bit of orange marmalade on the plate adds an unexpected but welcome note of sweetness. Every change to the classic recipe works.

The menu may be fresh and creative, but it doesn't neglect hearty appetites. There are steak and eggs with filet mignon, Lyonnaise potatoes and Bearnaise sauce ($16); shrimp and grits with chorizo, corn relish and tomato-shellfish broth ($12), and — my choice — the flavorful poutine and fried egg ($9) with short rib gravy, white cheddar and Fresno chilies.

It should have been called "short-rib poutine," for all the fork-tender braised beef — not just gravy — hidden under the egg on top. The polenta fries on the bottom of the skillet soak up the rich juices and oils, while pickled hot chilies on top help offset the dish's inherent fattiness.

During brunch hours, the stylishly contemporary restaurant, which has served only dinner until now, is filled with sunlight from its walls of windows; the ones nearer the back open to the sidewalk.

Diners will find Bistro 82 a polished but relaxed place to ease into the day, especially with a menu that's one of the best of the season's new crop of brunches.

Brunch: Sunday only, 10 a.m.-2 p.m.; reservations suggested. (401 S. Lafayette; 248-542-0082 and www.bistro82.com)

Contact Sylvia Rector: srector@freepress.com and 313-222-5026. Follow her on Twitter @SylviaRector.
View Article >