Royal Oak's new Bistro 82 delivers a sure, sophisticated take on French bistro cuisine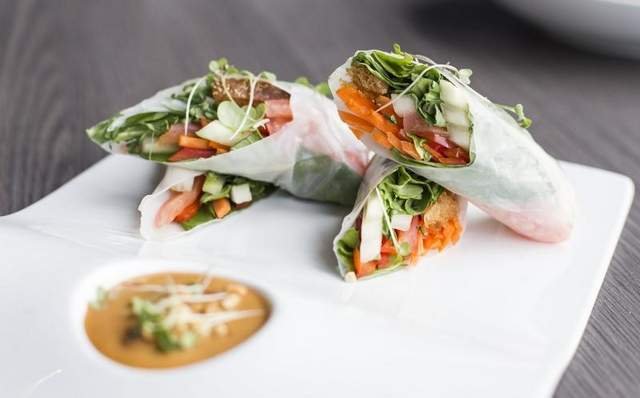 March 11, 2014 | Detroit Free Press
Bistro 82's cool vibe and modern, sophisticated styling aren't the only reasons you should move this new Royal Oak destination to the top of your must-try dining list. You should really go for the food.

In flavor as well as attitude, executive chef Derik Watson's beautifully executed plates are easily a match for the dining room's sexy good looks.

The restaurant has been open barely a month, and Watson is still tweaking its French-accented bistro menu. But for a place so new, the kitchen is consistent and sharp, and service is especially good.

With its showy, spacious bar area at the entrance, Bistro 82 feels like a great spot to meet friends for drinks as well as to have dinner, and the menu serves both crowds. For sharing over cocktails, there are plates and luxurious platters of chilled fresh shellfish and a selection of bar snacks, and most of the 10 appetizers are easily shareable, as well.

The diverse starters ($8-$15) range from eye-catching, rice-paper-wrapped crudité vegetables with peanut sauce — reminiscent of Vietnamese fresh rolls — to an upscale take on poutine, made with crisp polenta "steak fries," beef-shank gravy and Vermont cheddar. Vegetarian choices include grilled artichoke halves with lemon vinaigrette and roasted pepper aioli.

I loved the pork belly: Two fork-tender pieces of the deliciously fatty meat are glazed with a dark, hoisin-like sauce and served alongside toasted brioche topped with a poached quail egg. To balance the richness, vinaigrette-dressed frisée greens are served on the side. If you've never had bone marrow, try it here: Scoop out the soft center of the bone with a small spoon and spread it like butter on the crisply toasted baguette slices.

For those who love French onion soup, Watson's refined, well-balanced version is not to be missed. Neither too salty nor too sweet, its clean, flavorful broth is topped with a generous herb-flecked layer of Comté cheese (France's version of gruyére) that's melted and golden but not bubbling over like a tavern dish.

The French bistro spirit infuses the entrée list from its first item — the lovely poisson (fish) du jour with fabulous fondant potatoes, wilted spinach and red-wine butter sauce — to its last, an 8-ounce filet mignon with peas and carrots, whipped cauliflower and sauce Bordelaise.

With so many good choices, it's hard to recommend just one or two main dishes. The aforementioned fish du jour — recently, wild striped bass — would certainly be one. The tender sliced Wagyu hanger steak, topped with compound butter and served with French fries and Bearnaise sauce, would also make my list.

The pan-roasted Scottish salmon was another stand-out for its terrific succotash base — a blend of edamame, white beans, clumps of fresh corn kernels, slender asparagus tips and French green beans — with purple potato slices in a wide bowl of bright green basil pistou broth.

The 12-ounce grill-marked Kurobuta pork chop was a beauty, set atop sweet corn purée with soybeans, roasted mushrooms and dark, savory confit-shallot jus. And I loved the finesse, freshness and great flavor of the chicken pappardelle, with torn pieces of dark and light chicken, herbes de Provence, baby peas, asparagus tips and exotic mushrooms tossed with wide pasta ribbons in a delicate cream sauce.

My seafood bouillabaisse was the only dish that really missed. The shellfish was cooked too long and the whole presentation looked less appealing than the beautiful photo on the e-tablet menu.

Those gorgeous shots of each dish are great for guests, because they let diners see what they're ordering — but they're challenging for kitchens in real-world conditions, I mentioned in an interview with company operations director Scott Sadoff.

Nevertheless, he said, that's the standard Watson expects.

The chef's impressive résumé includes work at Tribute under chefs Takashi Yagihashi and Don Yamauchi; David Burke's Modern American Restaurant in Las Vegas; Takashi restaurant in Chicago, where Watson was lead sous chef, and Iridescence, where he was Yamauchi's chef de cuisine. Now that he's running his own show, you'll want to remember his name.

Bistro 82 — set in the renovated, expanded site of the old Sangria restaurant — is the creation of real estate and hospitality entrepreneur Aaron F. Belen, who envisioned it and its upstairs Sabrage ultralounge as a metro-wide dining and entertainment destination. He wanted to attract a slightly older, more sophisticated clientele than most of Royal Oak's more casual spots, he said, and so far that's the case.

The restaurant is a distinctive space, with a softly glowing black-onyx bar in front, a long exterior side wall that's almost entirely windows and a sleek contemporary feel. Chairs upholstered in soft white leather and framed in black wood look sharp against a backdrop of gray walls and ceiling. Modern art adds a vibrant punch of color. And an expansive glass-walled wine room provides a focal point near the back of the restaurant.

The personable, attentive servers look professional in their dark jeans, long black-and-white striped aprons and black dress shirts, and it's not easy to find a dish they can't discuss knowledgeably.

I'd recommend reservations; Bistro 82 looks like a new hot spot.
View Article >