BISTRO 82 BRINGS WORLD CLASS DINING TO DOWNTOWN ROYAL OAK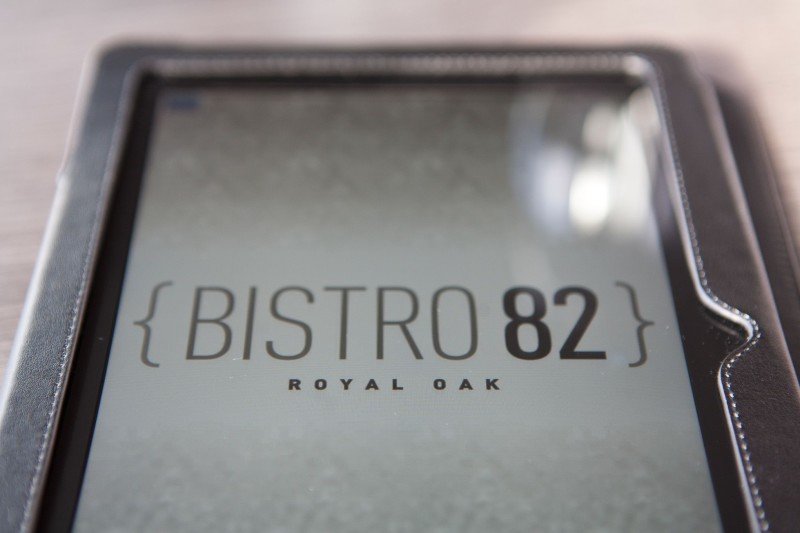 | HELL YEAH DETROIT
You are greeted warmly once you open the door and after you settle in, it's easy to realize Bistro 82 is a cool place. A place where after a meal you can move to the bar, have a few drinks and listen to good music.

Clean, well lit and with a modern architecture that makes the diner curious for what treasures are going to come from the kitchen, Bistro 82 is one of the more enticing things to happen in Royal Oak for awhile.

Located on the corner of Fourth Street and Lafayette (previously Sangria), the restaurant is bringing a new and exciting blend of experiences that wouldn't be out of place in New York or Chicago.

There are tablet menus, no beat up paper menus here. This is a recent trend in restaurants. This allows the diner to take a look at a high quality photographs of the menu items. This brings a modern approach to dining that will become the norm in the next few years. This isn't the only avant-garde move being made by Executive Chef Derik Watson.

nh_20140227_1039-2

First off Watson is young, relatively speaking, and at 33 he is bringing an exuberance to a new restaurant concept that many places lack. For starters he insists on fresh, local (when possible) ingredients in interesting combinations that are not common place in southeast Michigan, and the menu will change as they move forward.

"You're going to find a modern take on french cuisine here. We are using classic concepts with a new look. We keep the ingredients simple and fresh, but try to keep things familiar," Watson began. "You are not going to find mashed potatoes and caesar salads here, but we are always going to have something for everybody."

Watson has had quite the journey to get to where he is today. Think Anthony Bourdain. The sort of journey that didn't have many handouts and comes with a lot of long hours. Chefs are famous for the time they put into work. If you don't want to work 75 hours a week becoming a chef is probably not for you. Watson still bears the scars of someone who has spent 15 years juggling screaming hot plates and razor sharp knives.

"We are looking to bring something new to the Detroit area," Watson said.

nh_20140227_1008-2

He got his start working in Ft. Lauderdale. Which is the sort of place where many get their start, but also a place where many learn that the restaurant business is hard and opt for something else. He started working at high volume restaurants in downtown Ft. Lauderdale which sees year round business with astronomical spikes in the winter and spring. From there he started a serious apprenticeship at a more upscale restaurant called Himmarshee Bar and Grille, named for Himmarshee Street where a lot of action takes place down there.

I knew Watson in a former life. 12 years ago I ended up in South Florida after leaving a marketing job. I needed a place to crash while looking for an apartment of my own. Through a friend I was introduced to Watson. He let me sleep on his couch for awhile, where I battled his lovable pit bull nightly for the one blanket.

The last time I saw him he was working in a serious, next level kitchen in Ft. Lauderdale. I peeked my head into the kitchen to say hello and the head chef exploded in the sort of colorful rage that isn't out of place in the restaurant industry. I sheepishly left knowing that Derik Watson was onto something.

After Florida, Watson found his way back to Michigan where he worked at the Rugby Grille, Peabodys, and eventually found a job working under the world famous chef Takashi Yagihashi at Tribute, at one time considered the best restaurant between New York and Chicago and since closed.

At Tribute, Watson learned a whole new brand of cuisine under Yagihashi (known by his first name, Takashi in the industry). He then opted on the side of adventure, took a pay cut and moved to Las Vegas working at a place called Modern American, a David Burke concept located in the Venetian.

mule

"It was wild and something you can only do in your twenties. At one point I was driving a blue, $900-a-month BMW and sleeping on an air mattress. I would work hard and spend time in the casinos. It was crazy, but I learned so much," Watson said.

Eventually Takashi called Watson up and asked him to come to Chicago where he helped the world famous chef develop some of the concepts that has since launched him to international stardom. Next time you are in Chicago check out Slurping Turtle. Takashi will opening one these concepts in Ann Arbor soon.

"It was time. I needed to get out of Las Vegas. I pointed that blue BMW east and took a road trip," Watson continued. "Having the opportunity to have Takashi mentor me again was something I couldn't pass up."

From Chicago, Watson came back to Detroit and worked as the chef de cuisine for Don Yamuichi at Iridescense inside the Motor City Casino. He then took a much needed break, re-connected with the same girl he was dating so long ago in Ft. Lauderdale and had a child of his own.

Now that he is running the show at Bistro 82, his hard work and expertise makes for quite the food experience. Our photographer and I were positively blown away by the food that kept coming to the table. Not to mention impeccable service from a very professional staff.

There is a simple snack menu to begin. Things like spiced nuts, roasted olives and a vegetable Giardiniera helped us get started. All just a few dollars and are a great way to start the evening.

We then filled our table with appetizers.

nh_20140312_2090



Our favorite was their version of Poutine. Thick polenta steak fries formed a sort of housing for beef shank gravy, that was more beef than gravy, and vermont cheddar. Unreal.

nh_20140312_2072

The bone marrow was excellent. Everyone raced through the steak tartare that comes topped with a quail egg.

goat

Their goat cheese was in a league of its own.

nh_20140312_2101



To break it up between our entrees we split their two salads. These are both creative blends of unusual ingredients that will not find anywhere else. The arugula salad was a warm blend of of portobello corn relish, roasted peppers, shaved Parmesan and a bacon-sherry vinaigrette.

butter

The butter lettuce salad has a refreshing mix of unique ingredients with a homemade buttermilk-chive dressing.

nh_20140312_2143

The main event did not disappoint. The four large Sea Scallops come on top of a white bean mousseline, cooked to perfection and had a delicious and non-overwhelming sauce americaine. The Scottish Salmon is served on a fresh bed of succotash, purple potato and pistou broth and was light enough to remind you that there are very healthy options here. Our favorite was the Beef Short Rib. Done simply with wine, celery root and swiss chard, and to be cliche, it literally melts in your mouth.

yogurt



Dessert was outrageous. The Yogurt Panna Cotta with blueberry compote was delicious..

nh_20140312_2181



But our favorite was the Cinnamon Sugar Beignets. All washed down with fresh French pressed coffee, espresso and a digestif.

All photos are by Nick Hagen

There were too many things for us to try. You will have to explore the wonderful menu for yourselves.

Bistro 82 and the nightclub Sabrage which is upstairs and separate from the restaurant are all part of AFB Hospitality Group. Proprietor Aaron F. Belen (hence AFB) is looking to make some big changes to the Metro Detroit food and hospitality scene.

Bistro 82 gets its name from wine. Apparently '82 was a fantastic year for Bordeaux. Also the year the owner, Aaron F. Belen was born. Sabrage draws its name from the French word to saber open a bottle of champagne. Bistro 82 will provide the food, Sabrage will provide the good times.

"Everything in here is state of the art. We did a complete re-build. Even our sound system is state of the art. It was designed by the sound engineer from the Beijing Olympics," Watson added.

Don't worry, the noise level in Bistro 82 is moderate, but everything else is world class. Their mantra displayed proudly across their website says it all. "Ability takes you to the top. Character keeps you there."

The prices are extremely reasonable for the TLC that goes into each dish.

The Restaurant is open: 4-10 Tuesday and Wednesday. 4-11 on Thursday. 4-Midnight on Friday and Saturdays. 4-9 on Sundays.

Location: 401 S. Lafayette, Royal Oak. There is plenty of parking and valet as well.

Here is the phone number, we suggest reservations: 248-542-0082

All photos in this post credit Nick Hagen.
View Article >